MAISTIC Home Compostable WASTE BAGS
The Maistic series of bags cover compostable waste bags. We use organically grown corn from food production and the bag is OK Compost HOME certified. This means that you can collect your bio waste in a bag that is degradable in nature under the right circumstances together with the food. When you use a MAISTIC waste bag you – support decrease of production and use of traditional non-degradable plastic – use a bio-based and non-polluting product – can safely collect apples or other types of food in the bag as the bag is food contact safe and approved for contact with edibles. It does not contain any harmful plastic resin substances like phthalates and bisphenol – can decompose it together with your kitchen bio-waste in a suited compost bin to create rich soil for your garden. However, be careful NOT to throw the bag direcly in the garden with your other garden waste as it will end up in nature by the wind. No waste, compostable bags included, should end up in nature!
The material
The patented bio-plastic material is based on organically grown and GMO-free corn. The rounded bottom of the bag enforces it and minimizes risk of leakage. MAISTIC recommends a new waste bag every second day to avoid too much heavy waste decomposing too quickly with the bag, and to avoid bacteria and bad smell.
Packaging
The waste bags comes in a box which makes it easy to find the right bag from the kitchen drawer. The box is marked with a 'use before' date as the compostable bag has a natural shelf life of 1 year. Each individual bag is marked with liter size (20 or 30 liter). In retail waste bags are available in two different sizes: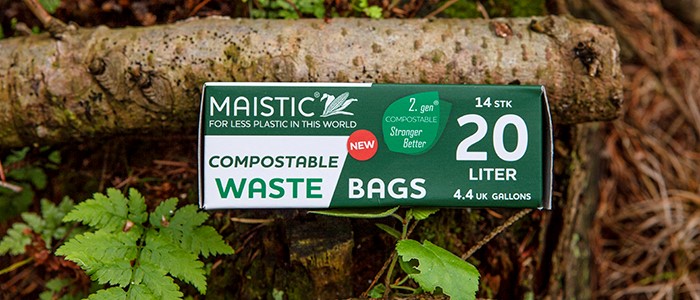 20 liter/4.4 gallon waste bag: 14 bags per roll. Size 50 x 44 cm with extra width on sides. Thickness 17 micron (μm). Colour is dark green. Liter size is printed on bag 30 liter/6.6 waste bag: 10 bags per roll. Size 65 x 50 cm with extra width on sides. Thickness 17 micron (μm). Colour is dark green. Liter size is printed on bag.
The compostable bags for retail from Maistic all carries the label OK Compost HOME that shows that the bags are tested degradable in well maintained home compost.
Home Compostable Waste Bags,
you can tie easily
We're happy to introduce the Maistic WaveCut to our Home Compostable bags range. Still more municipal waste facilities demad closed bags for the bio waste. Bags that are home compostable AND easy to tie AND affordable have therefore been a wished for demand for a long time. Now they are here. Maistic new WaveCut Waste Bags are still bags on a roll, but now cut in a special way making four 'flaps' on each bag. The flaps hang nicely on the outside of your bin when the bag is in use. When the bag is full, you simply take the flaps, two and two, and tie a knot. Quite simple. 
As always, Maistic 2.GEN bags are certified Home Compostable with the official mark from TÜV, OK Compost HOME. The mark shows, that the bags are tested biodegradable with food scraps, making them compatible to degrade and be part of nature as natural fertilizer.
Maistic WaveCut in 2 sizes
Maistic WaveCut Waste Bags comes in two standard sizes: 20 liter bags. Measurements: 44cm x 45cm+10cm flaps. 14 pcs/pack   NEW 30 liter bags. Measurements: 50cm x 60cm+10cm flaps. 10 pcs/pack   NEW If you need 'No Flaps', you can choose the flat cut Home Compostable Waste Bags – Find them here
About the bags
All Maistic waste bags have rounded bottoms called 'star-sealing'. This makes the bottom stronger – and the risk of accidents smaller. Still, please replace bags used for biowaste within 48 hours. As compostable bags are developed to interact and degrade with food scraps, that's what they do. There are now 11 bags variants in the Maistic 2.GEN range.
All bags are packed in paper boxes – not in plastic, of course.
On the bags we've printed the bag size – e.g. 20L or 30L. This makes it easier to find the right bag in your kitchen drawer, even without the packaging.
On all paper boxes we've printed an 'Often Good After' date – always look for it in the stores when buying compostables. Why they have a date just like milk and meats? Well, on a molecule level all compostable bags are developed to degrade over time; basically break into pieces. But they are also developed to be usable for as long as possible, which is approx. 1 year from production – often longer. The bags does not rot and can be used for as long as the hold what you need them to hold – this is why we call the date an 'Often Good After' date.
TRY THIS: Take out the roll of bags. Cut a hole in the box – a 4-5 cm long oval. Put back the roll and pull out the first bag. By this you can easily find the right size of bag in your drawer. And keep track of the Best Before dates. Practical and easy.