Maistic BIO KITCHEN SCRUBBER
– the new plastic free and resuable sponge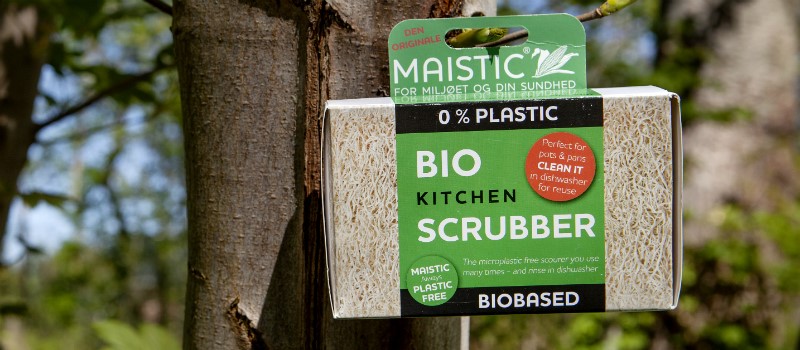 Plastic free, bio-based and reusable.




Only a few drops of soap is needed for your environmentally friendly dishwashing.
Now you can say goodbye to polluting plastic scourers forever. And hello to eco-friendly cleaning.
MAISTIC Bio Kitchen Scrubber is efficient for all types of more rough cleaning – in kitchen and bathroom, indoors and outdoors and for all kinds of surfaces that you want to clean.
You might already know sponges made from wood-based cellulose. The great, soft sponges are bio-based, plastic free, they do not crumble and it is washable. So use it again and again. The scourer part and the sponge part are sewed, not glued, together.
The scourer part of the Maistic Bio Kitchen Scrubber is made from the loofah plant. The cucumber-like loofah fruit is dried and smaller parts are sewed to the white cellulose sponge.

Washing instructions
All Maistic sponges are washable in the dishwasher. Put it in the tray for glasses. Dry sponges standing up. Then the sponge is ready to be used again. Alternatively use boiling water with a little clear vinegar. Do not put Maistic Bio Kitchen Scrubber in the washing machine. Do not tumble dry, as this will reduce the product lifetime.
Materials
Maistic Bio Kitchen Scrubber
100% bio-based
The sponge is made of natural cellulose from wood fibers. The scourer part is made from dried loofah. Sewed together with organic cotton thread. No glue.
Measurements: 11 x 7 cm.
Packing: In paper box – of course no plastic wrap. Languages on standard pack: Danish, English and Dutch texts.